Are you a property owner in Prospect, KY, looking for reliable single-ply roof replacement services? If so, look no further than the experienced crew at Louisville Top Choice Roofing! We are your go-to experts, committed to providing you with top-notch replacement solutions that ensure the longevity and performance of your roof. Call us now at 502-681-7686 to learn more!
Our Replacement Services
We follow a strict replacement process to ensure high-quality results:
Inspection: We begin by conducting a thorough inspection to assess the condition of your existing roof and identify any issues that require attention.
Consultation: Our detailed consultation involves discussing your roofing options, providing expert guidance, and tailoring a plan that aligns with your goals and budget.
Material Selection: Our team will assist you in selecting the right roofing materials, taking into account factors such as durability, energy efficiency, and aesthetics.
Expert Installation: Our highly trained professionals conduct the roof replacement with precision and meticulous attention to detail, ensuring results of the highest quality.
Quality Assurance: Following installation, we perform a stringent quality check to ensure that your new single-ply roof performs optimally and meets our rigorous standards.
Why Choose Us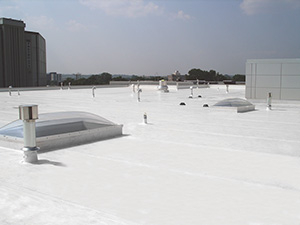 We understand the importance of a sturdy and efficient roof. Here's why we are your top choice for single-ply roof replacement services:
Local Expertise: As proud members of the community, we have a deep knowledge of the local weather conditions. This allows us to offer solutions that are perfectly suited to your needs.
Skilled Professionals: Our team of highly skilled roofing professionals stays up-to-date on the latest industry techniques and materials. Your roofing project will be in our capable hands.
Comprehensive Services: We offer a comprehensive range of services to meet all your needs. Whether it's inspections, a consultation, or repairs, we are here to help!
Energy Efficiency: We prioritize energy-efficient roofing solutions. Our single-ply roof replacement systems are designed to optimize energy efficiency, leading to long-term savings on your energy bills.
Customer-Centric Approach: Your satisfaction is our primary focus. From the initial consultation to the final inspection, we are committed to providing you with a seamless and enjoyable roofing experience.
Contact Us
If you're ready to replace your single-ply roof, then the crew at Louisville Top Choice Roofing in Prospect, KY, is your trusted partner. Call us now at 502-681-7686 to schedule your consultation!