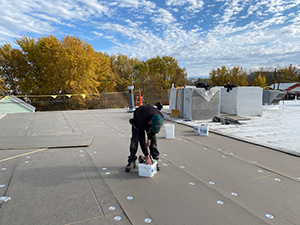 As a property owner in Prospect, KY, it is crucial to ensure your building is safe and functional. One vital aspect that is often overlooked is the condition of your roof. When it comes to your commercial roof replacement task, it is crucial to partner with a trustworthy and skilled contractor. Thankfully, the Louisville Top Choice Roofing team is an unrivaled replacement service provider. Our unwavering commitment to excellence and exceptional service makes us the preferred choice for commercial owners looking for top-quality roofing solutions to their roofing issues. To discover how we can help you, call us today at (502) 681-7686!
Why Choose Us
We recognize that each of our clients will have specific needs. Therefore, our experts schedule tailored consultations to evaluate your roof's condition, understand your objectives, and offer customized recommendations. We ensure everything is done with exceptional precision in all of our replacements. We take pride in our workmanship, ensuring meticulous attention to detail throughout the process. This ensures a long-lasting and resilient roof that exceeds your expectations. Since we are committed to providing you with our high-quality services, we source premium materials from reputable suppliers. Using these top-grade products, we can install roofs capable of withstanding the elements and providing long-term protection for your building.
Importance in Replacement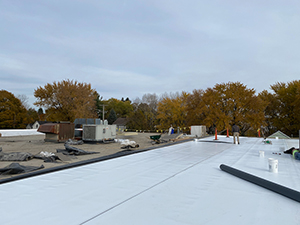 A well-maintained commercial roof acts as a protective covering and is crucial to the longevity of your building. Even the most durable roofing material will become weakened by the elements—leaks, sagging, or any extensive damage that will alter the safety of your building. Thus disrupting the daily operations, which leads to costly repairs and potential business interruptions.
Replacing your roof quickly is the key to preventing any further damage while ensuring the integrity of your property. By investing in superior replacement services, you can protect the well-being of your employees, provide a secure environment for customers, and safeguard your valuable assets.
Call Us Today
Don't allow a deteriorating roof to hinder the safety and functionality of your commercial building. The Louisville Top Choice Roofing crew in Prospect, KY, is ready to protect your property with our exceptional roof replacement services. Trust us with your roof. Our unwavering dedication and sympathy will be shown to your roof. To experience the transformative power of our services, contact us today at (502) 681-7686!