As interest in sustainability and energy efficiency continues to grow, more building owners are looking for ways to minimize their carbon footprint and boost efficiency. One effective solution is applying a high-quality roof coating. Coatings can help your building in a variety of ways. If you have a building in Prospect, KY, our team at Louisville Top Choice Roofing is the best choice for you. For more information, call us today at (502) 681-7686!
Maintenance
In addition to improving your building's energy efficiency, coatings can also provide long-lasting protection for your commercial roof. With proper maintenance and care, a coating can enable your roof to last for many years, saving you money in the long term. Our team is dedicated to providing high-quality, sustainable roofing solutions that meet your needs. Clearly, a coating is a fantastic choice for property owners who value efficiency and cost-effectiveness.
Benefits to Our Coatings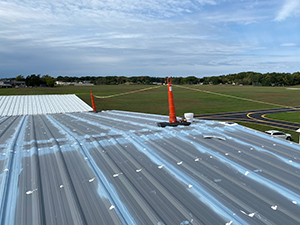 Roof coatings offer a number of benefits, including reduced energy costs, enhanced protection against the elements, and an increased lifespan for your roof. These benefits are especially important when it comes to improving your building's energy efficiency. Property owners must meet specific requirements in order to gain an Energy Star certification. Thankfully, a coating can help by reflecting sunlight and reducing heat absorption, resulting in lower energy costs and a smaller environmental footprint.
Our team understands the importance of sustainability and energy efficiency in commercial roofing. Our crew of experts stays up to date with the latest developments in the industry, and we have experience working with a wide range of roof coatings to serve our clients best. We offer a variety of coatings, including acrylic, silicone, and polyurethane, to meet your unique needs. We will take into account your budget and local climate to help you make the best choice.
Contact Us
A roof coating can be an excellent way to increase your building's energy efficiency, reduce your carbon footprint, and protect your roof. The Louisville Top Choice Roofing team is committed to helping building owners across the region find sustainable and efficient roofing solutions. To learn more about how we can help you, if your building is in Prospect, KY, contact our crew today at (502) 681-7686!
We look forward to partnering with you.