When it comes to maximizing roofing efficiency and performance, the team at Louisville Top Choice Roofing in Jeffersonville, KY, is your trusted spray foam roofing contractor. Thanks to our experience, we deliver exceptional results. For top-quality solutions, call us today at 502-681-7686!
Spray Foam Roofing
Efficiency is at the core of every successful roofing project, and our spray foam roofing contractors excel in this area. We are experts at applying spray foam insulation, a cutting-edge technique which offers a range of advantages. Spray foam acts as a seamless barrier, effectively sealing your roof against leaks, drafts, and any moisture intrusion. By employing the latest advancements in spray foam technology and application methods, our contractors ensure precise and uniform coverage, maximizing energy efficiency and minimizing heat loss.
Benefits
One of the key benefits of spray foam roofing is its exceptional insulation properties. The science behind this efficiency lies in the chemical composition of the foam. When applied, the foam expands and fills gaps and crevices, creating a continuous layer of insulation. This seamless coverage eliminates thermal bridging, where heat is transferred through solid materials, ensuring a more consistent temperature within your building. As a result, your HVAC systems operate more efficiently, reducing energy consumption and lowering utility costs.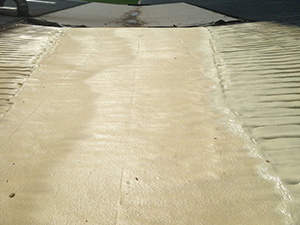 The expertise of our contractors also extends to the precise formulation of the foam mixture. By carefully adjusting the ratio of the two components—polyol and isocyanate—our contractors achieve the ideal consistency and density for optimal performance. This attention to detail ensures that the spray foam adheres securely to your roof's surface, forming a durable and long-lasting protective layer. Our contractors understand the nuances of different roof types, allowing them to tailor the spray foam application to suit your specific needs.
Finally, our contractors are knowledgeable and professional. They undergo extensive training and stay up-to-date with the latest industry practices to deliver superior workmanship. From a thorough roof inspection and preparation to precise foam application and quality control, our contractors execute each step with meticulous attention to detail. Our expertise and commitment to excellence ensure that your roofing project is completed efficiently, on time, and with the highest level of craftsmanship.
Contact Us
When it comes to efficient commercial roofing solutions, Louisville Top Choice Roofing in Jeffersonville, KY, is the name you can trust. Our expert contractors use their extensive knowledge and skills to deliver outstanding results. We will ensure that your roof lasts for many years to come! To get started, call us today at 502-681-7686.