The team at Louisville Top Choice Roofing in Jeffersonville, KY, is your trusted partner for top-notch commercial roofing solutions. As industry pioneers, we understand the importance of staying at the forefront of advancements in commercial roof restoration techniques. To learn more about the innovative approaches we employ to deliver exceptional results, call us today at 502-681-7686!
Our Team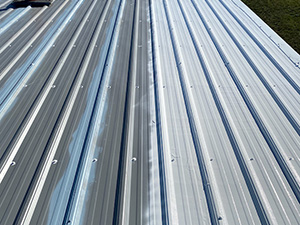 A commercial roof restoration is a dynamic service that requires a blend of art and science. We believe in harnessing the power of innovation to provide our clients with cutting-edge solutions. Our team of experienced professionals stays up-to-date with the latest industry advancements, employing state-of-the-art techniques that guarantee outstanding outcomes. By integrating science and technology into our restoration processes, we unlock new levels of efficiency, durability, and customer satisfaction.
Coatings
One notable innovation in restoration services is the use of advanced coatings. These coatings are formulated with specialized polymers and additives that enhance their performance and longevity. By carefully selecting the right coating for each specific roof type and condition, we can effectively seal and protect the roof's surface. These coatings are not only highly resistant to UV radiation and harsh weather conditions, but they also have remarkable reflective properties, reducing heat absorption and improving the energy efficiency of your structure.
Technology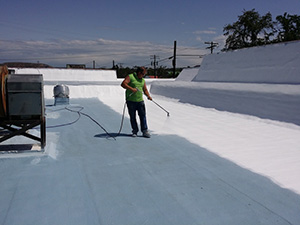 Technology also plays a significant role in our restoration techniques. One breakthrough in the industry is the use of drone technology for roof inspections. Drones equipped with high-resolution cameras allow us to conduct detailed and accurate inspections, even in challenging or inaccessible areas. This enables us to identify and address potential issues more efficiently, resulting in faster turnaround times and cost savings for our clients. The use of drones also enhances safety by minimizing the need for manual inspections in hazardous situations.
Thermal Imaging
Another scientific innovation in restoration services is the use of thermal imaging technology. This technology enables us to detect hidden moisture and insulation gaps within the roofing system. By capturing infrared images, we can identify areas of concern that may not be visible to the naked eye. This allows us to address underlying issues before they escalate, preventing potential damage and ensuring long-term roof performance.
Contact Us
Here at Louisville Top Choice Roofing in Jeffersonville, KY, we stay up-to-date with the latest industry developments to bring you the best solutions possible. By integrating innovative techniques, advanced coatings, and cutting-edge technology into our processes, we deliver exceptional results. To experience the difference for yourself, call us today at 502-681-7686!