When it comes to commercial roofing, functionality and durability are crucial. However, that doesn't mean you have to compromise on style. Here at Louisville Top Choice Roofing in Jeffersonville, KY, we believe that your roof can be both practical and aesthetically pleasing. That's why we offer expert single-ply roofing services, which can protect your building and enhance its visual appeal. To get started, call us today at 502-681-7686!
Benefits
Single-ply roofing has gained popularity in the industry due to its versatility and adaptability. What sets single-ply roofing apart is its ability to offer a sleek and modern appearance while delivering exceptional performance. These roofing systems are available in a variety of colors and finishes, allowing you to choose an option that complements your building's design and enhances its visual appeal.
The aesthetic appeal of single-ply roofing lies in its ability to seamlessly integrate with different architectural styles. Whether your building features a contemporary design or embraces a more traditional aesthetic, single-ply roofing can be tailored to suit your specific requirements. From flat roofs to sloped roofs, single-ply membranes can be installed with precision, creating a seamless and visually appealing surface that improves the overall look of your building.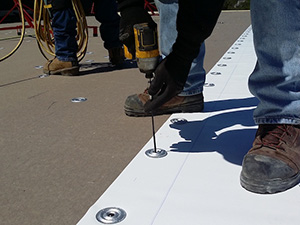 Beyond its visual appeal, single-ply roofing offers numerous functional benefits that are excellent for commercial building owners. These roofing systems are highly resistant to UV radiation, extreme weather conditions, and chemical exposure. With their exceptional durability, they provide long-lasting protection for your commercial property. Additionally, single-ply membranes offer excellent energy efficiency, reducing heat transfer and lowering your utility costs.
Our Team
Our team takes pride in our expertise in installing and maintaining single-ply roofing systems. Our skilled crew of professionals understands the delicate balance between style and performance. We work closely with our clients to assess their needs, recommend the most suitable options, and ensure a flawless installation. Discover for yourself why so many building owners trust us to provide the solutions they need.
Contact Us
To learn more about our single-ply roofing services and how we can help you enhance your commercial building, contact the team at Louisville Top Choice Roofing in Jeffersonville, KY. Our crew is dedicated to delivering exceptional craftsmanship and personalized solutions that meet your needs. Let us help you experience the benefits of single-ply roofing. To learn more, or to schedule your consultation, call us today at 502-681-7686!