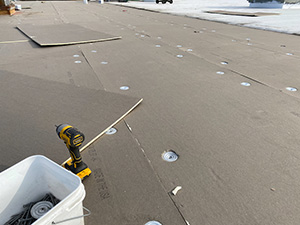 Here at Louisville Top Choice Roofing in Jeffersonville, KY, we take immense pride in providing excellent commercial roofing services to building owners in the region. With our commitment to quality craftsmanship and exceptional customer service, we offer a wide range of services that guarantee you peace of mind. Whether you need a roof installation, repairs, maintenance, or a replacement, our team of skilled professionals is here to deliver superior results. Call us today at 502-681-7686 to get started!
Our Services
When it comes to commercial roofing, we understand the unique needs and challenges that building owners face. That's why we offer a comprehensive suite of services tailored to meet your specific requirements. From start to finish, we strive for excellence in every project we undertake.
Installation
As experienced contractors, we specialize in installing high-quality commercial roofs that are built to last for years. We work closely with you to understand your goals and recommend the most suitable roofing materials and system for your property. We do everything to the best of our ability. Our expert installation team ensures a seamless and efficient process, minimizing disruptions to your business operations.
Repairs
Time and exposure to the elements can take a toll on your commercial roof. Our skilled technicians are adept at identifying and addressing a wide range of roofing issues, from leaks and damaged shingles to structural damage. We utilize advanced techniques and top-grade materials to deliver effective and lasting repairs, restoring the integrity and functionality of your roof.
Maintenance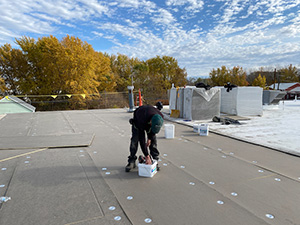 Regular maintenance is essential to prolong the lifespan of your commercial roof and prevent costly repairs. Our proactive maintenance programs are designed to detect potential issues early and address them promptly, saving you time, money, and headaches in the long term. Trust our team to keep your roof in optimal condition year-round.
Replacement
When repairs are no longer sufficient, our roof replacement services offer a reliable solution. We work with you to determine the best options that align with your budget and requirements. Our skilled team ensures a smooth and efficient replacement process, minimizing disruptions to your business operations.
Peace of Mind
Our team prioritizes customer satisfaction above all else. We strive to deliver excellence in every aspect of our service, from our craftsmanship to our professionalism and our communication. When you choose us for your commercial roofing needs, you can rest easy, knowing that your project is in capable hands.
Contact Us Today
For exceptional commercial roofing services in Jeffersonville, KY, look no further than the team at Louisville Top Choice Roofing. Experience the peace of mind that comes with working with a trusted name. To learn more, or to schedule your consultation, call us today at 502-681-7686!