Are you a building owner in Prospect, KY, looking for reliable commercial roofing services? If so, look no further! The team at Louisville Top Choice Roofing takes immense pride in providing top-notch roofing solutions for industrial and commercial properties. With our experienced team and commitment to excellence, we are dedicated to protecting you and your building. Contact us today at 502-681-7686, and let us be your trusted partner in ensuring a sturdy and reliable roof for your property!
Importance of Quality Commercial Roofing Services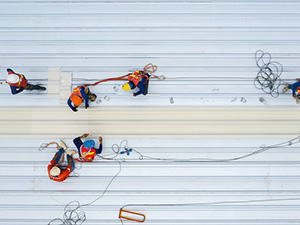 Your commercial property's roof is more than just a covering; it serves as the first line of defense against the elements and plays a crucial role in protecting your building and your belongings inside. Investing in high-quality commercial roofing services is essential for several reasons:
Protection: A well-maintained roof protects your commercial property from harsh weather conditions, preventing leaks and interior damage.
Energy Efficiency: An efficient roofing system can reduce energy consumption by providing proper insulation, leading to a reduction in heating and cooling expenses.
Safety: A sturdy commercial roof ensures the safety of those inside your building.
Longevity and Cost Savings: Regular maintenance and timely repairs can extend the lifespan of your commercial roof, allowing you to avoid the cost of a premature replacement.
Our Comprehensive Services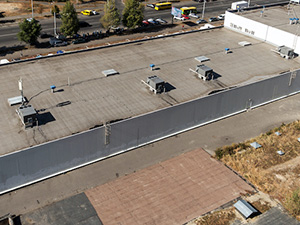 We offer a wide range of commercial roofing services tailored to meet your specific needs:
Inspections: Our expert team conducts thorough inspections to identify any existing issues and assess the overall condition of your commercial roof.
Repairs: Whether it's leaks, damage, or general wear and tear, our skilled technicians are equipped to address these issues promptly and efficiently.
Maintenance: We believe in proactive maintenance to extend the lifespan of your commercial roof and prevent problems.
Replacement: Our professional team can provide efficient and reliable roof replacement services if your roof is beyond repair.
Coatings: Our coatings enhance your commercial roof's durability and energy efficiency, reducing maintenance needs and improving performance.
Call Us Now
A reliable and durable commercial roof is vital to protect your building. Here at Louisville Top Choice Roofing in Prospect, KY, we are proud to offer exceptional commercial roofing services. Our comprehensive range of services and our commitment to excellence make us your trusted partner. Contact us today at 502-681-7686, and let us ensure your roof is in top-notch condition! We look forward to serving you.