Are you in search of a durable and visually attractive roofing solution for your property? If so, look no further than the team at Louisville Top Choice Roofing in Prospect, KY. We take immense pride in offering top-notch metal roofing services. With our experienced team and commitment to excellence, we are dedicated to transforming your property with our exceptional solutions. Contact us today at 502-681-7686, and let us be your trusted partner in providing you with a stunning and long-lasting metal roof!
Advantages of Metal Roofing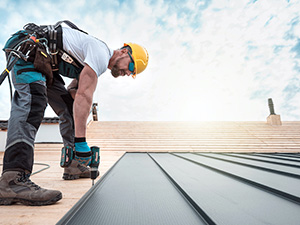 Metal roofing has gained popularity among building owners for several reasons. It offers a host of benefits, making it an excellent investment:
Exceptional Durability: Metal roofs are renowned for their unmatched durability, capable of withstanding severe weather conditions, including high winds, heavy rain, and even hail.
Longevity: With proper maintenance, metal roofs can last for several decades, providing a long-term roofing solution that reduces the need for a replacement.
Energy Efficiency: Metal roofs reflect sunlight, reducing heat absorption and helping maintain a comfortable indoor temperature, leading to energy savings.
Low Maintenance: Metal roofs require minimal maintenance, saving you time and money in the long term.
Visual Appeal: Available in a variety of styles and colors, metal roofs can complement any architectural design, enhancing the overall visual appeal of your property.
Our Comprehensive Services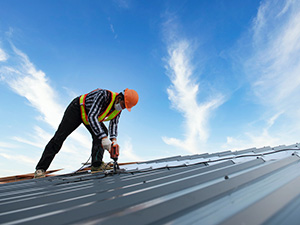 We offer a wide range of metal roofing services tailored to meet your needs:
Installation: Our experienced team is well-versed in the precise installation of metal roofs, ensuring flawless and long-lasting results.
Repairs: If your metal roof has sustained damage or developed a leak, our skilled technicians are equipped to address these issues promptly and efficiently.
Replacement: If your current roof is beyond repair, we can provide efficient and reliable metal roof replacement services.
Coatings: Our coatings can enhance the durability and energy efficiency of your metal roof, prolonging its lifespan and reducing maintenance needs.
Timely and Reliable: We value your time, and our commitment to prompt service ensures that your metal roofing needs are addressed efficiently.
Call Us Today
A metal roof can transform your property, thanks to its exceptional durability, longevity, and aesthetics. Here at Louisville Top Choice Roofing, we are proud to offer top-notch metal roofing services in Prospect, KY. Our comprehensive range of services and our commitment to excellence make us your trusted partner. Contact us today at 502-681-7686, and let us ensure your property is protected with a top-notch metal roof!