As a leading commercial roofing company in Louisville, KY, the team at Louisville Top Choice Roofing specializes in spray foam roofing installation services. Spray foam roofing is becoming increasingly popular, thanks to its durability, energy efficiency, and ease of installation. Our crew can help guide you through the application process and answer any questions you may have. To learn more, call us today at 502-681-7686!
Application Process
Roof Preparation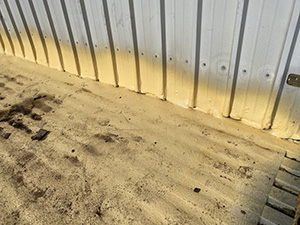 The first step in the spray foam roofing application process is preparing the roof's surface. This involves cleaning the surface and removing any debris, dirt, or loose material that may interfere with the adhesion of the spray foam.
Spray Foam Application
Once the surface is clean, our team will then begin applying the spray foam. This process involves spraying a two-component mixture of polyurethane foam onto the roof's surface, which will expand and solidify into a seamless and durable roofing layer.
Roof Coating Application
After the spray foam layer is applied, our team will then apply a protective roof coating on top of the spray foam. This coating not only provides additional protection, but it also helps reflect sunlight, reducing the amount of heat absorbed by the building.
Final Inspection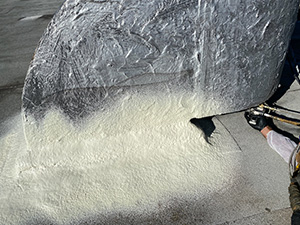 Once the spray foam and coating have been applied, our team will conduct a final inspection to ensure that service was performed correctly. We will confirm that we completed the job according to the manufacturer's specifications.
Benefits
Spray foam roofing has a number of benefits for commercial property owners, such as increased energy efficiency, durability, and resistance to severe weather.
Additionally, spray foam roofing provides a seamless layer that eliminates the need for overlapping materials, greatly reducing the likelihood of leaks and other roofing issues.
Contact Us
Installing spray foam roofing on your building is relatively simple, and this roofing type can be a durable and energy-efficient alternative. If you're considering spray foam roofing for your commercial property in Louisville, KY, the crew at Louisville Top Choice Roofing is here to help. Our experienced team can guide you through the process and provide you with the expertise and knowledge you need. Call us today at 502-681-7686 to learn more or to schedule your consultation!