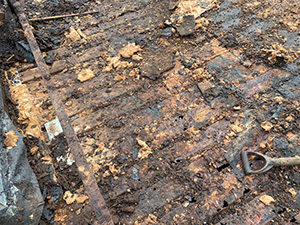 When it comes to safeguarding your commercial building in Louisville, KY, from unpredictable elements, ensuring the durability and integrity of your roof is essential. At Louisville Top Choice Roofing, we specialize in commercial roof replacement services with unparalleled quality and reliability. With our expertise and dedication, you can trust us to protect your investment and provide a secure covering for your business. Call us today at 502-681-7686 to learn more about our services and schedule a consultation.
Benefits of a Commercial Roof Replacement
Though a roof replacement is a large project, it offers benefits not found with other commercial roofing services.
Maintaining a Sturdy Roof
As a business owner, you know that regular roof maintenance is crucial for extending the lifespan of your commercial roof. By prioritizing routine inspections and proactive care, you can identify and address minor issues before they escalate into major problems that require expensive repairs or even a premature roof replacement.
Preserving the structural integrity of your roof offers numerous benefits. First, it saves you from the financial burden of ongoing repairs. and the risk of damage to your inventory and building structure.
Second, it reduces the risk of damage to your inventory and building structure.
Third, a new commercial roofing system comes with a warranty against defects, providing peace of mind for years to come.
Preventing Interior Damage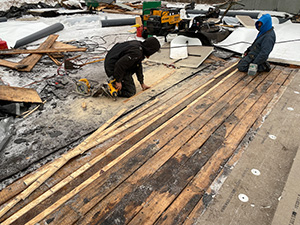 A new roof plays a vital role in preventing interior damage to your building. A leaky roof can result in water intrusion, leading to mold growth, rotting wood, stained ceilings, and damaged insulation. Not only do these issues compromise the comfort and safety of your building's occupants, but they also require costly repairs and can disrupt your business operations.
You can keep your interior dry and protected by prioritizing roof care and addressing any issues on your new roof promptly. Our expert team at Louisville Top Choice Roofing can perform thorough inspections, identify vulnerabilities, and offer practical solutions to ensure your commercial building remains safeguarded against water damage.
Enhancing Energy Efficiency
Another advantage of a commercial roof replacement is improved energy efficiency for your building. A poorly maintained roof with gaps, leaks, or inadequate insulation can result in heat loss during winter and heat gain during summer. This unnecessarily strains your HVAC system, leading to higher utility bills and increased energy expenses.
With your new commercial roof, you can optimize your building's energy performance. By sealing gaps, addressing leaks, and enhancing insulation, you create a more energy-efficient environment, reduce your carbon footprint, and save money on utility costs over time.
Contact Us for Expert Commercial Roof Replacement
A commercial roof replacement is an investment in your busines and pays off in the long run. At Louisville Top Choice Roofing, we are the leading commercial roofing company in Louisville, KY, committed to protecting your building and ensuring its longevity. Don't hesitate to contact us today at 502-681-7686 to schedule an inspection or learn more about our comprehensive range of services.