Are you looking for a roofing solution that offers exceptional insulation, durability, and energy efficiency? If so, spray foam roofing could be the right choice for you. The team at Louisville Top Choice Roofing in Prospect, KY, is here to help! With our commitment to excellence and our dedication to providing top-tier solutions, we bring you excellent spray foam services. To learn more about this roofing type, call us today at 502-681-7686!
Advantages of Spray Foam Roofing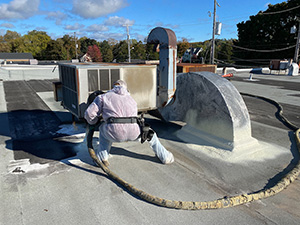 We pride ourselves on staying at the forefront of the roofing industry. Our spray foam roofing services exemplify our dedication to offering you the best solutions possible. Here's why you should consider this cutting-edge option:
Unparalleled Insulation: Spray foam roofing provides seamless insulation, eliminating gaps and minimizing heat transfer. You can reduce energy consumption, enjoy a comfortable interior temperature, and reduce utility bills.
Seamless Waterproofing: Spray foam can help you eliminate leaks and water damage. This roofing type acts as a monolithic barrier that keeps moisture out, protecting your property and your belongings insides.
Longevity: Spray foam roofing forms a strong, protective layer over your roof, shielding it from harsh weather conditions, UV rays, and other environmental factors. This leads to a longer lifespan for your roof and fewer maintenance needs.
Energy Efficiency: By providing exceptional insulation and reducing air leakage, spray foam roofing contributes to improved energy efficiency. You will enjoy lower energy bills and a reduced carbon footprint, since your HVAC system will operate more efficiently.
Versatility: Whether you have a flat or sloped roof, spray foam roofing adapts seamlessly to various roof types, ensuring a good fit for your building.
Eco-Friendly Choice: Our commitment to sustainability extends to our roofing solutions. Spray foam roofing contains no harmful chemicals, making it an environmentally responsible choice.
Choosing Us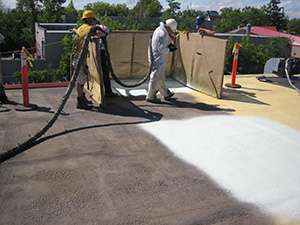 When you choose us for your roofing needs, you will partner with a team that is dedicated to your satisfaction. Our experienced crew will guide you through the process:
Consultation: We start with a thorough consultation to understand your roofing needs, goals, and budget.
Customized Solutions: Based on our discussion, we tailor our services to your situation.
Professional Installation: Our skilled technicians ensure a precise and efficient installation, guaranteeing the longevity and effectiveness of your new roof.
Call Us Today
Improve the functionality and durability of your building with the power of spray foam roofing. The team at Louisville Top Choice Roofing in Prospect, KY, is your trusted partner! To get started, call us today at 502-681-7686.