Single-ply roofing is one of the most popular options for building owners across the nation. More and more people are coming to realize the benefits this modern and efficient material offers. The team at Louisville Top Choice Roofing in Prospect, KY, is renowned for our single-ply roofing services. Our technicians are ready to take on your project, whether it's an installation, repairs, or a replacement. Call us today at 502-681-7686 to get started!
Benefits of Single-Ply Roofing
Single-ply roofing systems have become one of the most popular options across the nation. This roofing system offers excellent resistance to the most common problems that roofs face.
Essentially, single-ply roofing systems consist of numerous types and amounts of membranes. Each single-ply membrane is suited to a particular function or reason. This is why these membranes make single-ply roofing systems effective and reliable. Currently, the most widely used membranes in the roofing market are TPO, EPDM, and PVC membranes. PVC membranes are known to reflect sunlight and keep the interior of the building at a comfortable temperature, while EPDM and TPO membranes offer flexibility and robustness to your roof.
There is no doubt that single-ply roofing systems are great options for building owners. They offer everything you might need, so you should consider this roofing type for your next project. However, providing single-ply membrane roofing services is not something every company can do. You need to choose a reputable and trusted roofing company to work on your roof.
Why Choose Us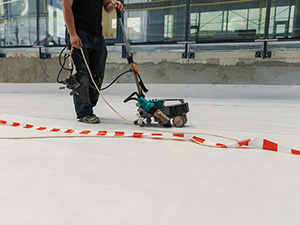 We have been serving the roofing needs of building owners in the area for many years. Our skilled crew has been carefully trained in all aspects of roofing to operate as effectively and swiftly as possible. Our roofers have vast experience creating effective solutions under time constraints.
We are also proud to be a member of the National Roofing Contractors Association, a partnership that recognizes our efforts in the roofing sector. Our cooperation with Duro-Last enables us to provide you with the best roofing products in the market at reasonable prices.
Our crew also provides inspections, repairs, replacements, and restoration services. In addition, when it comes to roofing materials, our team can help with whatever is on your building, such as PVC, TPO, EPDM, or metal.
Call Us Today
If you're a building owner in Prospect, KY, looking for a top-notch company to provide expert single-ply roofing services, your best choice is the crew at Louisville Top Choice Roofing. To learn more, contact our team today at 502-681-7686!