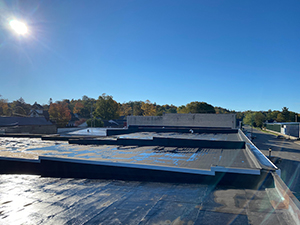 Your commercial building will need commercial roofing services. Whether the roofing service you need is repairs or replacement, Louisville Top Choice Roofing is the roofing company to call. If your commercial building is in St. Matthews, KY, call us at (502) 681-7686.
Our Commercial Roofing Services
To keep your commercial roof in prime condition, you must take care of it. To help, we offer the following commercial roofing services.
Repair. From small leaks to larger problem areas, Louisville Top Choice Roofing prides itself on the ability to find and fix your leak problem.
Restoration. If damage is too widespread, or your roof is nearing the end of its lifespan, a more cost-effective solution may be a commercial roof restoration. By adding a layer of waterproofing over your existing roof, the entire roof benefits from a longer lifespan and a renewable warranty.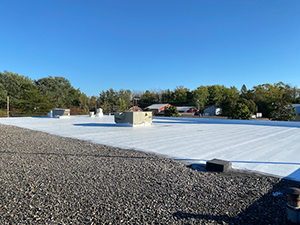 Replacement. Eventually, every roof will need a complete replacement. When the time comes, you can count on Louisville Top Choice Roofing for high-quality roofing system options.
Inspection. From your seasonal roof inspections to adverse weather events and even buy/sell situations, we provide comprehensive inspection services, including full documentation of our findings.
Maintenance. With our custom-tailored maintenance programs, you can rest easy knowing your commercial roof is receiving the regular preventative maintenance attention it needs to last.
Why Louisville Top Choice Roofing?
All commercial roofing companies offer the same general services. What sets us apart from the rest? An unwavering attention to detail. A firm commitment to quality workmanship. A preference for premier materials. The belief that customer service is not just words but the underlying foundation of good business. These are just a few of the tenets we run our business by.
With a focus on being your roofing partner, Louisville Top Choice Roofing works diligently to ensure your complete satisfaction with every project we complete.
Contact Us
We are available if you need a professional team to handle your commercial roof. We have many commercial roof services that will manage your roof for you. We at Louisville Top Choice Roofing have your roof's best interest at heart. We keep ourselves updated on the latest innovations in the roofing industry to ensure that we can provide the best care possible for your roof. If you are in St. Matthews, KY, you can contact us at (502) 681-7686.