Taking care of your roof can be difficult if you lack the necessary expertise. However, your roof is an essential component of your building and demands specialized knowledge. Fortunately, building owners in Prospect, KY, can count on the team at Louisville Top Choice Roofing. We are a trusted commercial roofing contractor in the area that can effectively address all your roofing needs. Call us today at 502-681-7686 to get started!
Services We Provide
The primary objective of a commercial roofing contractor is to ensure that your roof provides optimal protection. Here are some of the services we provide:
Installation: Our team specializes in installing roofs on commercial properties. We have extensive experience working with various roofing types, such as flat roofs, metal roofs, and shingle roofs. By closely collaborating with our clients, we determine the most suitable solution based on your needs, budget constraints, and building design.
Repair: Promptly addressing roof damage or wear and tear is crucial for commercial properties. We offer repair services to swiftly resolve any issues, preventing further damage to your building. We ensure timely repairs to maintain your roof's integrity and functionality.
Replacement: If your roof is damaged beyond repair or if you're looking for an upgrade, our contractors can replace your roof. Moreover, we will work to understand your specific situation to suggest the best possible options for you.
Advantages of Working with Professionals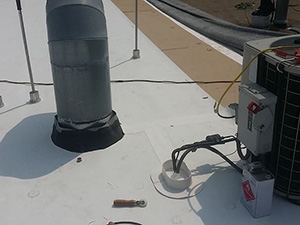 Selecting the right contractor is crucial, as it offers several advantages:
Expertise: Commercial roofing contractors have extensive experience working with a variety of roofing types, including flat roofs, metal roofs, and shingle roofs. Their knowledge and skills ensure a proper installation, resulting in a durable roof. Choosing the right professionals leads to positive results for your project.
Safety: Safety is of the utmost importance when working on roofs, as it involves working at heights. Contractors prioritize safety and provide their employees with appropriate training and necessary tools. This ensures a safe working environment and promotes the well-being of everyone involved.
Cost-Effectiveness: Hiring a contractor can lead to long-term cost savings. Their professional installation or repair work is done correctly from the beginning, eliminating the need for additional expenses to rectify mistakes or address future leaks. Making the right choice in this regard helps you save both money and time.
Contact Us
If you're a building owner in Prospect, KY, and you are looking for a reliable commercial roofing contractor, look no further than Louisville Top Choice Roofing. Don't hesitate! Call us today at 502-681-7686 to find the right solution for your needs.