As a commercial property owner, ensuring the longevity and performance of your roof is crucial. Spray foam roofing is one of the best ways to protect your investment. When looking for a spray foam roofing contractor in Louisville, KY, you have no better choice than Louisville Top Choice Roofing. Call us today at 502-681-7686 to schedule your consultation!
Our Team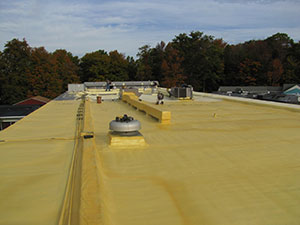 With many years of experience and an excellent reputation in the area, our team has established itself as a leading provider of commercial roofing services. Our skilled and certified contractors specialize in spray foam roofing, offering unparalleled expertise and craftsmanship to meet your unique needs.
Unlike traditional roofing systems, spray foam roofing is a seamless material that provides superior insulation and protection for your building. It is made of two liquid components that are sprayed onto the roof's surface and then expand to form a durable and waterproof barrier. This layer adheres tightly to the substrate, eliminating gaps, seams, and joints, which are common sources of leaks in traditional roofing systems.
Benefits
One of the major benefits of spray foam roofing is its exceptional energy efficiency. This material creates a thermal barrier that helps reduce heat transfer, keeping your building cooler in the summer and warmer in the winter. This could lower your utility bills and reduce your carbon footprint, making spray foam roofing an environmentally-friendly choice.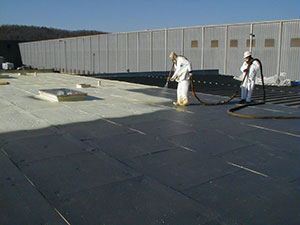 Spray foam roofing is also highly durable and long-lasting, with a lifespan of up to 50 years if properly installed and maintained. It is extremely resistant to moisture and UV rays, ensuring your roof remains intact and functional for decades. This can save you money on repairs and replacements in the long term.
Why Choose Us
What helps set us apart from our competition is our commitment to quality and safety. Our team of experienced contractors undergoes regular training and follows the industry's best practices to ensure every project is completed to the highest standards. We also use premium materials and cutting-edge equipment to deliver superior results that exceed our customers' expectations.
Contact Us
We understand that roofing projects can represent a major disruption to your business operations. This is why we strive to complete every job on time and under budget. You can trust the team at Louisville Top Choice Roofing in Louisville, KY, for your roofing needs! Call us today at 502-681-7686 to schedule your consultation or to request an estimate.