When your home's roof has aged significantly, it is time to have a roof replacement done. This will protect you and the ones you love. If your home is in Louisville, KY, you can count on our team at Louisville Top Choice Roofing. Contact us today at 502-681-7686.
The Importance
The importance of having your damaged roof replaced can never be overestimated. We know when you go home, all you want to do is rest and recover from work. However, that is difficult to do when there are leaks in your roof and things to repair. Owning a home can be stressful, but it is yours. Getting a roof replacement is a big deal and should be handled by experts. When done correctly, a replacement can equate to an upgrade. Over the last twenty years, roofing materials have improved dramatically. They have been made stronger, better for the environment, and improving their energy efficiency score. This means that while this is a large investment, it will positively impact you now and in the future.
Change the Way You Think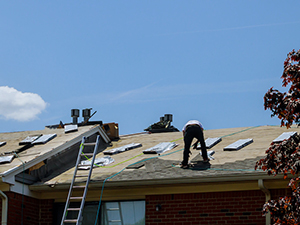 There are two ways you can look at a replacement; it can be a burden or a chance at a clean start. No matter what, having your roof replaced will be required at least once in your lifetime. You can allow that to be upsetting and stressful. We can show how each step works and aid you through the process of picking materials for your roof. This should help ease the stress that comes with replacing your roof.
Updating your roof with a clean, fresh replacement offers many benefits.
Aesthetics – Your home looks better with a new roof. If you are considering selling, the property value improvement and better curb appeal unquestionably make a roof replacement a worthy investment.
Better Protection – A new roof will protect your home and family better – end of sentence. Regardless of how well a repair is done, it will never offer the same level of waterproofing as a new roof does.
Warranty – Your new roof comes with a roofing warranty. That warranty could be 20 years or more, depending on the materials and manufacturer used. That is a lot of peace of mind!
Call Today
Call us when your home in Louisville, KY, needs a roof replacement. We at Louisville Top Choice Roofing will handle your roof replacement with the precision that only professional roofers can deliver. If your home is in Louisville, KY, call us today at 502-681-7686. Let us show you how to improve your home through your roof. We handle all roofing systems with a keen eye for success.