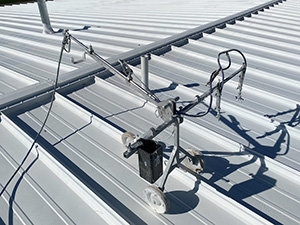 Are you a building owner in Jeffersonville, KY, looking for professional metal roof restoration services to revive the appearance and functionality of your building? Look no further than the team at Louisville Top Choice Roofing. With our unwavering commitment to delivering exceptional craftsmanship and ensuring customer satisfaction, we are the area's leading experts. Call us today at 502-681-7686 to experience our outstanding service firsthand!
Benefits of Metal Roof Restoration Services
Protection: Over time, metal roofs can exhibit signs of wear, including corrosion and rust. We specialize in revitalizing metal roofs. Our team of skilled professionals will thoroughly assess your roof, identifying areas in need of attention. By applying top-quality coatings and sealants, we safeguard your roof from further deterioration, prolonging its lifespan and preserving its structural integrity.
Enhanced Energy Efficiency: Metal roofs are renowned for their energy efficiency, thanks to their reflective properties. However, over time, the protective coating on the roof may deteriorate, diminishing its energy-saving capabilities. We employ advanced technology and high-quality coatings to restore your roof's energy efficiency. By applying reflective coatings, we can significantly reduce heat absorption, resulting in lower cooling costs and a more comfortable indoor environment.
Cost-Effectiveness: Opting for a restoration instead of a complete replacement is a cost-effective alternative. By choosing a restoration, you save a considerable amount of money on materials and labor. Our restoration services are designed to breathe new life into your metal roof while staying within your budget. With our cost-effective solutions, you can achieve remarkable results without paying a fortune.
Restoration Process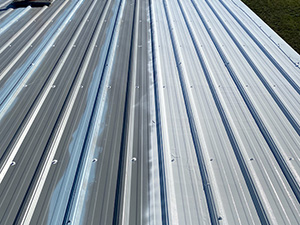 We follow a comprehensive process to restore your metal roof:
Inspection: We begin by conducting a thorough inspection of your roof to assess its condition and identify any areas that require attention. Our trained professionals have a keen eye for detail and will carefully examine every aspect of your roof to provide an accurate assessment.
Cleaning: Before proceeding with the restoration process, it's crucial to clean the roof surface to remove dirt, debris, and any existing coatings or sealants. Our cleaning methods effectively prepare the roof for the restoration process, ensuring optimal adhesion of the new coating.
Repairs: If your metal roof has sustained corrosion, leaks, or other damage, our skilled technicians will perform the necessary repairs before initiating the restoration. We will address any structural issues, replace damaged panels, and ensure that your roof is in excellent condition for restoration.
Coating Application: Applying a high-quality coating is a key component of our restoration service. We use premium-grade coatings designed for metal roofs to provide superior protection against weathering, corrosion, and UV radiation. These coatings not only enhance the appearance of your roof but also improve its durability and energy efficiency.
Contact Us
Louisville Top Choice Roofing is your go-to provider for metal roof restoration services in Jeffersonville, KY. Contact us at 502-681-7686 to learn more!