When it comes to your roofing project, partnering with the right contractor is crucial to achieve success. Here at Louisville Top Choice Roofing in Jeffersonville, KY, we take pride in our commitment to excellence and our proven track record in delivering exceptional results. If you are looking for a top-notch commercial roofing contractor, we should be your first choice! To get started, call us today at 502-681-7686.
Extensive Experience
One of the secrets to our success lies in our team of highly skilled and experienced professionals. Our crew members possess a wealth of knowledge and expertise in various roofing systems, materials, and installation techniques. They also stay up-to-date with the latest developments in the industry. This allows us to complete your project with confidence and deliver outstanding results that exceed your expectations.
Tailored Solutions
We understand that every project is unique, and there is no one-size-fits-all approach. That's why we emphasize the importance of tailored solutions. Our contractors conduct full and thorough assessments of each project, considering factors such as the building's structure, location, weather conditions, and budget. This enables us to develop customized roofing plans that address your specific needs and deliver optimal solutions.
Quality Materials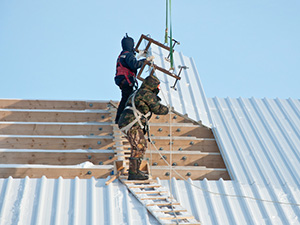 To ensure the durability and reliability of our solutions, we only work with materials of the highest quality. Our partnerships with reputable suppliers enable us to source top-grade roofing materials that withstand the test of time. Additionally, we stay up-to-date with the latest advancements in roofing technology, allowing us to incorporate innovative solutions into our projects for enhanced efficiency and performance.
Attention to Detail
A key aspect of our success lies in our unwavering attention to detail and precision in every aspect of our work. From meticulous roof inspections and measurements to precise installation techniques, we strive to provide the highest level of craftsmanship. Our contractors pay close attention to even the smallest details, resulting in seamless roof installations and repairs that stand the test of time.
Contact Us
Here at Louisville Top Choice Roofing in Jeffersonville, KY, we are committed to providing our customers with top-notch solutions. Thanks to our experience, quality materials, and unwavering attention to detail, you can trust us! Your project will be in excellent hands. To get started, call us today at 502-681-7686. See for yourself why so many across the region choose us!