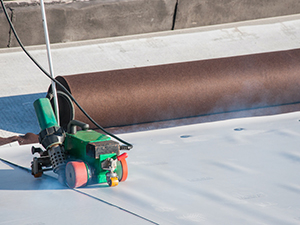 Single-ply roofing is one of the roofing systems we work with on a regular basis. This means that we have a thorough working knowledge of how they work and what they need. Single-ply roofing systems are durable and flexible while remaining light. If you are looking for a way to add protection to your roof without adding weight, this is a great way to do it. If you are in St. Matthews, KY, then you can call us at Louisville Top Choice Roofing. Our number is (502) 681-7686.
Some Benefits
The benefits of a single-ply roofing system are that it is lightweight and can be installed over your existing roofing system. It gives you the additional layer of protection you want without the risk of your structure being unable to handle it. They also add a significant layer of waterproofing that aids in the reduction of leaks and the damages that come from leaks. Single-ply roofing systems are also great at raising your energy efficiency. This reduces your utility bills while giving your HVAC unit a break. Since this roofing system is energy efficient, it also helps to reduce your environmental footprint. When it is installed professionally, it will last for 20-plus years. However, if it is not installed correctly, it will require a complete tear-off and replacement.
Simplicity
Single-ply roofing systems are simple yet incredibly effective. Since they comprise a single layer, they are easy to repair or replace if needed. They are low maintenance; this is due to their durability and flexibility. They flex with the changing weather, thus keeping the sealants from cracking due to stress. This allows it to move as needed while remaining intact. The materials are extra durable for the long-lasting results you want. With this simple addition to your roof, you are getting so much in return.
Contact Us Now
If you are considering adding a single-ply roof or you need your single-ply roofing looked at, allow our professional team to manage it for you. Louisville Top Choice Roofing has the knowledge you want to handle your roofing for your commercial building. Single-ply roofing needs to be managed by the experts, as these roofing systems are not ones that the average Joe can do by himself following the usual DIY approach. We can do everything from installation to maintenance for your single-ply roof. If your building is in St. Matthews, KY, contact us at (502) 681-7686.